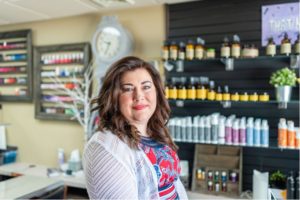 Melanie Kilchenman has over 30 years of experience.  She is passionate about organic products and providing better and safer health and beauty products for families like yours.  She loves to make you feel welcome and exceed your expectations.
NEW ADDITIONS ARE COMING…
We are excited to reveal to you and our community our expanded salon and spa experience soon!  With the new location, we will be offering new and expanded spa services and private studios for booth rental or career opportunities.  If you or someone you know is interested in joining with us, please contact Melanie at 330-280-0614.
UPDATE – EFFECTIVE SEPTEMBER 1, 2019
We would like to thank Sherry Miller and Emily Levengood for their great service and hard work since we started our second location in New Philadelphia last December.  They helped to plant us in New Philadelphia and give the the salon a great testimony in our community.  With the transition to the new location (318 East High Ave, #7, New Phila), Sherry and Emily will be each starting their own business – a new chapter in their lives.  We wish them well in their new adventure and opportunity.